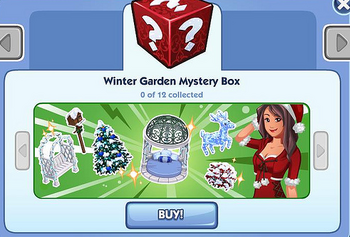 is a Christmas themed Mystery Box. You must use SimCash to purchase groups of the items inside the mystery box. The items are given at random when purchased.
This mystery box was available from December 1, 2011 - May, 2012 when it was removed from the game. These items are no longer available to purchase.
Items
Rare Items:
Price
Price of Winter Garden Mystery Box Items
Ad blocker interference detected!
Wikia is a free-to-use site that makes money from advertising. We have a modified experience for viewers using ad blockers

Wikia is not accessible if you've made further modifications. Remove the custom ad blocker rule(s) and the page will load as expected.