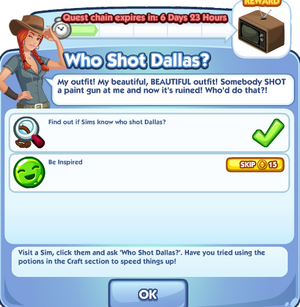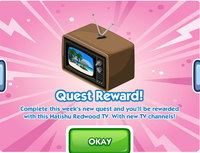 Who Shot Dallas? is a limited time quest available from March 1 - 7, 2012 during Back to the 80's Week. It is given by several characters: Dallas, Macy, Larry Lizard and Bella.
Completing this quest will award you with the Hatishu Redwood TV. This quest has a lot of 80's TV references in it!
Note: This quest will take a minimum of 3 days of waiting to complete.
Quest Requirements
Minimum cost: Female: 800

or 200

Quest Walkthrough
Image
Part
Description
Notes
Reward
1

Find out if Sims know who shot Dallas? (2x)
Be Inspired

Click Sims, choose "Who Shot Dallas?"; positive interaction
See Needs and Inspiration for how to get inspired

15 , 20 , 30
2

Buy any Totally or Radman 80's avatar item
Have 3 Bling
Collect Macy's Catalog in 24 hours

See minimum cost above for cheapest items.
Bling will be consumed
Click Mailbox, choose "Collect Catalog"

15 , 20 , 20
3

Study 80's Cop Shows 2 days in a row (2x)
Create your own Synth Pop - Jazz Fusion theme tune on a Keytar 5 times (5x)
Collect the P.I. Kit Dallas ordered for you

Click any TV and choose "80's Cop Show."
Use a SimPhonic Keytar (Try Bella's house), choose "Create Own Theme Tune"; will be bored of 2 actions in a row
Click mailbox, choose "Collect P.I. Kit"

15 , 20 , 20
4

Check the mailbox for the Financial section in the Littlehaven Post in 2 hours
Make 300 simoleons by completing writing skill tasks
Check the stock markets and pick some shares to buy

After 2 hours, click mailbox, "Check for Littlehaven Post"
See Writing Skill for a list of instruments to make money
Click computer, choose a "Buy Shares" option

30 , 30 , 30
5

Go to sleep 3 times
Have 7 Dreams
Ask 3 friends that you're not going insane!

20 , 20 , 15 , Hatishu Redwood TV
Ad blocker interference detected!
Wikia is a free-to-use site that makes money from advertising. We have a modified experience for viewers using ad blockers

Wikia is not accessible if you've made further modifications. Remove the custom ad blocker rule(s) and the page will load as expected.