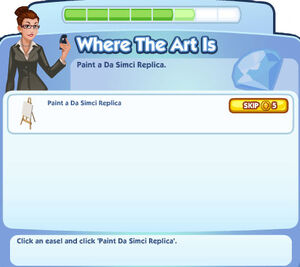 Where the Art Is is a multi-part quest that is given by the character Penelope.
Quest Requirements
You will need the following items to complete the quest:
Minimum cost: 1000

1000 - spend on decoration
Quest Walkthrough
Achievement
Part
Description
Notes
Reward
Where the Art Is
1

Have an easel
Buy 3 decorations for you house
Gain 2 Art Skill Levels

Any easel will work
Any item under the decoration section will do
May be a problem if you maxed out your art skill already

30 , 50
Forge Ahead
2

Have 4 Muse
Paint 5 Stick Figures

Muse will be consumed
Click on easel and choose "Paint Stick Figures"

30 , 3
What a Picture!
3

Ask friends for 3 Abstract Paintings
Earn 300 simoleons using your art skill

Publish FB Feed to get Abstract Paintings
Any energy interaction with an art skill item works

50 , 50
Divine Decoration
4

Spend 1000 simoleons on decoration

Must buy paintings only! Items that qualify:

Glorious Rainbow Painting
Big Apple Print

15 , 20 , 1
Learn With Leo
5

Collect 1 Moony Lisa from Painting interactions
Have 1 Paintbrush

Use easel to paint once
Publish FB feed to get paintbrush

30 , 30 , 20
Forging On
6

Use easel to paint replica

15 , 30 , 20
Going, Going, Gone!
7

Have a business Desk
'Review Art Auction Papers' on Business Desk
'Bid on Art Auction" on Phone

The LookBusy Desk from the Invest For Success quest will satisfy this
Click desk, choose "Review Art Action Papers"
Click phone, choose "Bid on Art Auction"

50 , 100 , 20
We Have a Winner
8

Wait 24 hours then 'Check Bids'

Click computer, choose "Check Bids"

30 , 100 , 20 , Impressionistic Painting
Ad blocker interference detected!
Wikia is a free-to-use site that makes money from advertising. We have a modified experience for viewers using ad blockers

Wikia is not accessible if you've made further modifications. Remove the custom ad blocker rule(s) and the page will load as expected.