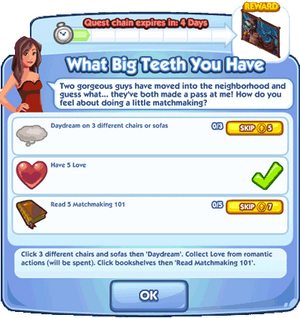 What Big Teeth You Have is a multi-part seasonal quest that was available during werewolves vs Vampires week in October 2011. It is given by characters: Bella Goth, Edward Sullen and Jacob Slack.
You will be awarded the Vlad the Impressionist painting by completing this quest.
Quest Requirements
You will need the following items to complete the quest:
Quest Walkthrough
Image
Part
Description
Notes
Reward
1

Daydream on 3 different chairs or sofas
Have 5 Love
Read 5 Matchmaking 101 (5x)

Use any chair or sofa
Love will be consumed
Click a bookshelf and choose "Read Matchmaking 101"

15 , 30 , 25
2

Remove Garlic from 3 refrigerators
Have a coffin style bed
Sandpaper 3 trees

Click fridges and choose "Remove Garlic"
Buy Coffin Bed
Click tree, choose "Sandpaper"

20 , 25 , 1
3

Have 7 Silver
Clear fleas from 5 objects
Put food in fridge

Click any electronic item and choose "Remove Silver"
Click seating items and choose "Clear Fleas"
Click fridge and choose "Stock with Food"

25 , 25 , 3
4

Have 5 Herbs
Ask a friend for a Silver Bullet
Call 3 Sims and warn them about Jacob

Herbs will be consumed
Click telephone and choose "Warn About Jacob"

I Heart Vampires (shirt), 20 , 50 , 30
5

Have 4 Stakes
Ask a friend for help sharpening stakes
Build a Graveyard

Click trees and choose "Collect Stake"
Buy and place 3 tombstones from the shop

I Heart Werewolves (shirt), 25 , 30
6

Call Bella and tell her your decision
Warn 3 Sims about Vampires
Warn 3 Sims about Werewolves

Use a telephone
Visit 3 other Sims

25 , 30 , 3
7

Create 7 Vampire and Werewolf traps
Hide 7 Traps in beds, sofas, tombstones and toilets
Have 3 Fear

Use a table or workbench to create traps
Place traps in sofas, beds, toilets, and tombstones
Will be used

Vlad the Impressionist Painting
Credit: Much info for this quest comes from Mr. Que Xiaohao's blog.
Ad blocker interference detected!
Wikia is a free-to-use site that makes money from advertising. We have a modified experience for viewers using ad blockers

Wikia is not accessible if you've made further modifications. Remove the custom ad blocker rule(s) and the page will load as expected.