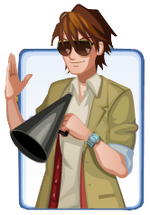 Tommy Amori (Jr.)
is a
character
in the Sims Social who will give your Sim
quests
. Your Sim cannot directly interact with him.
Description
Would-be director of a film called 'Enter the Llama' who thought he was in BIGhaven. His character appeared for two Japan Weeks (November 3 -15, 2011).
Quests
Tommy Amori gives the following quests:
Ad blocker interference detected!
Wikia is a free-to-use site that makes money from advertising. We have a modified experience for viewers using ad blockers

Wikia is not accessible if you've made further modifications. Remove the custom ad blocker rule(s) and the page will load as expected.