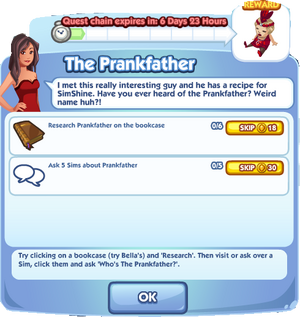 The Prankfather
is a limited time
quest
available from March 5 - 12, 2012 for
Gangster Week
. It is given by the
characters
:
Bella Goth
,
The Prankfather
and
Mike
.
Completing this quest will award you with the My Sly Lula Pal doll used in the limited time CALL FOR A CHANGE! quest.
Quest Requirements
Number of Friends
9
Minimum Cost
76
2000
Cost Breakdown
76 for Watermelons

2000 for WiseFellas Organized Crime Board & Pie Attack Hat

Backpack Items Used
8
Equipment Needed
Pie Attack Hat, WiseFellas Organized Crime Board
Quest Walkthrough
Image
Part
Description
Notes
Reward
1

Research Prankfather on the bookcase
Ask 5 Sims about the Prankfather

Click any Bookcase and choose "Research Prankfather"
Click Sim and choose "Who's the Prankfather?"; positive social action

15 , 50 , 10 , 10
2

Gather grain from plants or weeds
Gather water from the well
Steal sugar from Sim friend's fridges (6x)

15 , 80 , 15 , 10
3

Craft the SimShine on the Chemistry Lab Table (10x)
Test your SimShine out on Sims (7x)
Have 8 Relaxation (8x)

Visit Bella to use her table; will not succeed each time you try to craft the SimShine
Click Sim, choose "Test"; positive reaction
Relaxation will be consumed.

15 , 100 , 15 , 15
4

Harvest 4 watermelon (4x)
Gather vanilla seeds from interacting with weeds or plants (10x)
Steal eggs from Sim friends' fridges (8x)

Will take 12 hours to do this
Vanilla Seeds will be consumed
Click fridge and choose "Steal Eggs"

20 , 120 , 20 , 20
5

See above for cost
Requires 6 unique dirty items
Visit Bella to use her Chemistry Lab

20 , 150 , 20 , 25
6

Ask Bella over to work on the crime board with you
Investigate 9 Sims
Accuse friends of being the Prankfather

Ask Bella to come to your house, then click crime board and choose "Work on Crime"; area in front of board must be clear
Click Sim, choose "Investigate"; negative social action
Post news story to feed and have 6 friends click

25 , 200 , 20 , 35
7

Perform the "Special Hit" on Bella (3x)
Clean yourself up

Hat is in Clothes section of Store for 1100
"Special Hit!" is a negative social action
Use any item to fulfill your Hygiene need.

20 , 250 , 25 , 2
8

Clean your Sim friends dirty items (8x)
Recruit friends to your new outfit
Hit other Sims (10x)

Click visiting Sims and cleaning dirty toilet, shower,..
Publish story to news feed and have 7 friends click
Click on a Sim and "Hit!"

300 , 25 , 30 , My Sly Lula Pal
Ad blocker interference detected!
Wikia is a free-to-use site that makes money from advertising. We have a modified experience for viewers using ad blockers

Wikia is not accessible if you've made further modifications. Remove the custom ad blocker rule(s) and the page will load as expected.