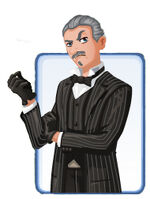 The Prankfather
is a limited time
character
in the Sims Social who will give your Sim
quests
. Your Sim cannot directly interact with him.
Description
The Prankfather appeared for Gangster Week in March 2012. He is pursued by Mike who is dressed as a policeman. The Prankfather's picture looks very much like Gustav Heimlich.
Quests
The Prankfather gives the following quests:
Ad blocker interference detected!
Wikia is a free-to-use site that makes money from advertising. We have a modified experience for viewers using ad blockers

Wikia is not accessible if you've made further modifications. Remove the custom ad blocker rule(s) and the page will load as expected.