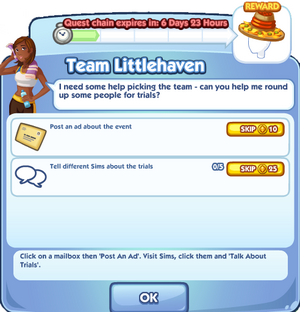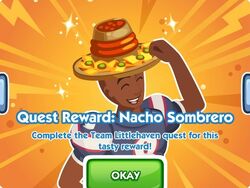 Team Littlehaven
is a limited time
quest
, available from February 2 - 8, 2012. It is given by the
character
Barbara Belle
.
Completing this quest will award you a clothing item, the Nacho Sombrero.
Quest Requirements
Minimum cost: 1000

Quest Walkthrough
Part
Description
Notes
Reward
1

Post an ad about the event
Tell different Sims about the trials (5x)

Click on the mailbox then 'Post An Ad'

Visit 5 Sims then 'Talk About Trials'; postive social action

30 , 40 , 30
2

The Simiyoga mat is in the Skills section
You only need to get 1 level (5 energies are needed to gain the first level)

40 , 50 , 40
3

Get some 'Extra Sleep' by sleeping on different beds (5x)
Have Stopwatches (10x)
Go for a PB

Use your and other neighbors' beds then click 'Extra Sleep'; not a social action
Send request to friends, Stopwatches will be consumed

Click a treadmill then 'Go for a PB' (Bella has one)

50 , 75 , 50
4

Research Rock, Paper, Scissors strategy on computers

(

8x)

Have Hope (6x)
Beat different Sims at Rock, Paper, Scissors

Use yours or neighbor's computers to research 'Rock, Paper, Scissors'
Hope will be consumed.

Visit 7 Sims then click

'Rock, Paper, Scissors'; positive social reaction.

60 , 100 , 60
5

Phone internet providers to try and get a faster internet connection

(8x)

Have Memory Upgrade (10x)
Win online

'Rock, Paper, Scissors' (8x)

Use yours or neighbor's phones to call Internet provider
Memory Upgrade will be consumed
Winning 'Rock, Paper, Scissors' is of a random outcome. You must use your own computer

and choose one of the three options. Chances of winning are 1:3, so expect to spend around 20 - 25 energy to complete this.

75 , 200 , 75 , Nacho Sombrero
Ad blocker interference detected!
Wikia is a free-to-use site that makes money from advertising. We have a modified experience for viewers using ad blockers

Wikia is not accessible if you've made further modifications. Remove the custom ad blocker rule(s) and the page will load as expected.