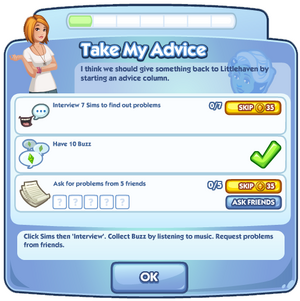 Take My Advice is a 7 part quest that is given by the character Scarlett.
This quest is preceded by Like, Total Emergency and is followed by Art Imitates Virtual Life.
Quest Requirements
You will need the following to complete the entire quest:
Minimum Cost: 2100

50 x 4 for phones
100 x 3 for typewriters (assuming you already have 2 from skill leveling)
400 x 4 for coffee machines (assuming you already have 1 from skill leveling)
Quest Walkthrough
Part
Description
Notes
Reward
1

Interview 7 Sims to find out problems
Have 10 Buzz
Ask for Problems from 5 friends

Click on Sim and say "Interview"
Buzz will be consumed
Ask for problems is a wall post, need 5 friends to click.

15

, 30

, 30 , 1
2

Have 12 Plans
Write advice column 10 times
Consult 5 dictionaries

Plans will be consumed
Use computer, choose "Write Advice Column"
Use bookcase, choose "Consult Dictionary"

20 , 30 , 30
3

Have 10 Muse
Give half-baked advice to 7 Sims
Fake advice column 5 times

Muse will be consumed
Visit 7 Sims and choose "Give Half-baked advice"
Use computer, choose "Write Fake Advice Column"

20 , 30 , 2
4

Have 10 Goodwill
Ask 10 publishers to be published
Beg friends to publish your work (5)

Goodwill will be consumed
Use telephone and choose "Ask to be Published"
Beg friends is a wall post, need 5 clicks

20 , 20 , 1
5

Have 5 telephones
Have 5 typewriters
Have 5 coffee machines

Save one or more of the typewriters for use in part 6 so you wont need to repair your computer

25 , 50 , 30
6

Write magazine 15 times
Have 8 Dreams
Request subscriptions from 5 friends

Use computer to "Write Magazine"
Dreams will be consumed
Requesting subscriptions is a wall post, need 5 clicks from friends

30 , 30 , 50
7

Have 10 Fury
Seek legal advice 5 times
Cook the books 10 times

Fury will be consumed
Seek legal advice can be done at phones at a neighbor's house as well as at home
Click on stoves or microwaves to "Cook the Books"

NOTE: Does not work on the ValleyView Splendor BBQ even though it gives you the "Cook the Books" option.

50 , 150 , 50 , 2
Ad blocker interference detected!
Wikia is a free-to-use site that makes money from advertising. We have a modified experience for viewers using ad blockers

Wikia is not accessible if you've made further modifications. Remove the custom ad blocker rule(s) and the page will load as expected.