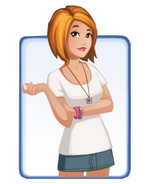 Scarlett Shaw
is a
character
in the Sims Social who will give your Sim
quests
. Your Sim cannot directly interact with her.
Description
Local It-girl Scarlett Shaw is the twin sister of Shane, but while her brother's popularity seems to have peaked in High School, Scarlett has gone from strength to strength. Her musical talent and unquenchable thirst for fame combine to make her one of Littlehaven's best-know residents. She's tipped for the top, so watch this space!
A member of the "Cream Club," Scarlett is not a very nice Sim. She will often give you quests that involve manipulation of other Sims in Littlehaven.
Quests
Scarlett Shaw gives the following quests:
Ad blocker interference detected!
Wikia is a free-to-use site that makes money from advertising. We have a modified experience for viewers using ad blockers

Wikia is not accessible if you've made further modifications. Remove the custom ad blocker rule(s) and the page will load as expected.