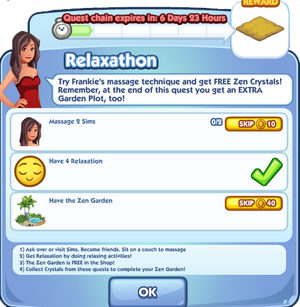 Relaxathon is a limited time quest available from April 19 - 25, 2012. It is given by the character Bella Goth.
Completing this quest will award you with an additional Garden Plot.
Note: Due to the Lotus Flower glitch, the developers made the additional Garden Plot available to unlock when you have maximized your Sim's Player Levels (to level 160).
Quest Requirements
Quest Walkthrough
Image
Part
Description
Notes
Reward

1

Massage 2 Sims
Have 4 Relaxation
Have the Zen Garden

Ask over or visit Sims, click on a sofa and use 'Massage' interaction
See Relaxation to see how to collect; will be consumed
Go to the Specials section of the store and buy the Zen Garden

1 , 15 , 50 , 10

2

Kiss 3 Sims
Have 8 Love
Perform 10 friendly interactions

You must do romantic interactions to trigger any kiss action, the Rayure Marine Neckerchief also unlocks the 'French Kiss'. You can kiss the same Sim 3 times
See Love to see how to collect; will be consumed
Do friendly interactions with other Sims

1 , 15 , 100 , 15

3

Plant and harvest 4 Crystal Trees
Earn 1000 Simoleons by performing writing skill actions
Meditate in the Zen Garden 3 times

Crystal Trees takes 28 hours to grown
Use any Writing Skill item to earn money
Click the Zen Garden, and use 'Meditate' action

1 , 15 , 120 , 10

4

Plant and harvest 10 Wheatgrass
Earn 1000 Simoleons by performing athletic skill actions
Drink from the Zen Garden Spring 3 times

Wheat Grass takes 15 minutes to grown
Use any Athletic Skill item to earn money
The Zen Garden needs to be in Part 3 in order to allow this action (try Bella's)

1 , 20 , 150 ,15

5

Clean 1 dirty item
Have full Hygiene
Have 8 Sponges

1 , 20 , 200 , 20

6

Tell 7 friends about the benefits of the Zen Garden
Splash together in the Zen Garden
Collect 5 Lotus Flowers

Post a story to your news feed and have friends click
Click on a completed Zen Garden and use 'Splash together' (try Bella's)
Collect Lotus Flowers that appear in your yard

1 , 25 , 250 , 25 , Garden Plot
Ad blocker interference detected!
Wikia is a free-to-use site that makes money from advertising. We have a modified experience for viewers using ad blockers

Wikia is not accessible if you've made further modifications. Remove the custom ad blocker rule(s) and the page will load as expected.