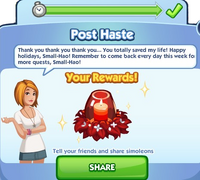 Post Haste is a limited time Christmas quest available on one day: December 23, 2011 during Festive Chic week. It is given by the character Scarlett. There is only one step.
Completing this quest will give you a decorative item the Grand Invites Candle as an award. This quest is easy to complete in the time given.
Quest Requirements
You will need the following items to complete the quest:
3 Friends + Bella (need access to their mailboxes)
12 Candy Canes
Minimum cost: 0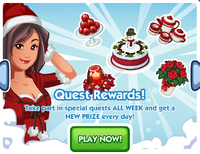 Quest Walkthrough
Image
Part
Description
Notes
Reward
1 / 1

Design postcards on an easel
Have 12 Candy Canes
Post cards to 4 Sims' mailboxes

Click easel and choose "Design Post Cards"
Candy Canes will be consumed
Visit 4 Sims and click mailbox, choose "Post Card"

5 LP , 5 coins , 5 XP , 5 SP
Ad blocker interference detected!
Wikia is a free-to-use site that makes money from advertising. We have a modified experience for viewers using ad blockers

Wikia is not accessible if you've made further modifications. Remove the custom ad blocker rule(s) and the page will load as expected.