Ad blocker interference detected!
Wikia is a free-to-use site that makes money from advertising. We have a modified experience for viewers using ad blockers

Wikia is not accessible if you've made further modifications. Remove the custom ad blocker rule(s) and the page will load as expected.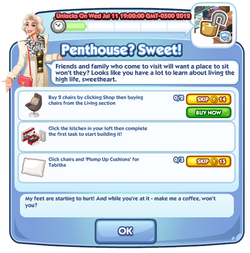 Penthouse? Sweet!
is a limited time
quest
available during
Living The Dream Week
from July 12 - 18, 2012. It is given by the
character
Tabitha
.
Completing this quest will allow you to unlock the next two rooms of the Penthouse on July 12th.
This is the second part of the A Lofty Challenge! quest.
Quest Walkthrough
Image
Part
Description
Notes
Reward
1

Buy 2 Chairs by clicking 'shop' then buying chairs from the Living section
Click the kitchen in you loft then complete the first task to start building it
Click chairs and 'Plump Up Cushions' for Tabitha (x3)

Buy any 2 chairs from living category of the shop
Complete first skill level on CuisineMuse Master Kitchen
Use any chairs three times, must have an empty space in front of them

15 , 20 , 10 ,
2

Buy 3 plants by clicking shop the buy plants from the Decoration or Outdoor categories
Complete the first stage of you loft kitchen!
Click on tables and counter then 'Must Be Cleaner!' (x3)

15 , 30 , 15 , 1
3
15 , 40 , 15 , 1
4

Visit 1 Sim and 'Gossip About Someone'
Click on a Sim's computer then 'Gather Gossip' (x3)
Complete the third stage of your kitchen project

Visit a sim you have a friendly relationship with
Use 'Gather Gossip' action three times
Finish Stage 3 of CuisineMuse Master Kitchen

15 , 50 , 15 , 1
File:PenthouseSweetquest feed pt5.png
5

Complete the final stage of your kitchen project!

20 , 60 , 20 , 1