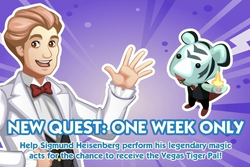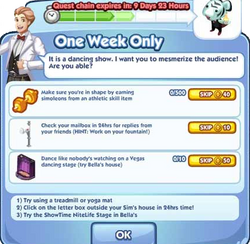 One Week Only is a limited time quest available from April 5 - 14, 2012 during Vegas Week. It is given by the character Sigmund Heisenberg.
Completing this quest will award you with the Vegas Tiger Pal, which is a requirement to complete the other limited time quest, No Trick, Mein Freund!
Quest Requirements
76 to plant 4 watermelons
32 to plant 4 lettuces
1000 for the Vegas Bunny Pal
Quest Walkthrough
Image
Part
Description
Notes
Reward

1

Become inspired
It's a Ritzy show... so have a Splash in the Vegas Ritzy Dip Pool!
Have some White Color Essence from white objects! (6)

20 , 30 , 20

2

Have Buzz (5)
Harvest Watermelons (4)
Have The Vegas Ritzy Fountain

Buzz will be consumed
Watermelons take 12 hours to mature
Buy the Vegas Ritzy Fountain from the Specials section (start completing it now as it will need to be completed later)

30 , 40 , 30

3

Ask your friends to watch your card trick! (2)
Have Joker Cards (10)
Shuffle cards on a Vegas Card Trick Table (try Bella's) for 2 consecutive days

Ask your friends to help you by clicking on a wall post!
Joker Cards will be consumed
Visit Bella and use 'Shuffle Cards' on her Vegas Card Show Table two days in a row*

40 , 50 , 40

4

Use any Athletic Skill item to earn the money
Click on the letter box outside your Sim's house in 24 hours
Try the Vegas NiteLife Stage in Bella's house (1 dance worth 25 simoleons credit toward the athletic skill item earning)

45 , 60 , 45

5

Use any Music Skill item to earn the money
If you've already finished your Vegas Ritzy Fountain, you can buy the Vegas Bunny Pal to complete this task
Visit Bella and use 'Magic Time!' on her Vegas Card Show Table two days in a row*

50 , 70 , 50

6

Have Herbs (15)
Harvest Lettuce to feed the bunny with (4)
Try to feed Fluffy the bunny in Sigmund's magic hat (10)

Herbs will be consumed
Lettuce take 30 minutes to mature
Visit Bella and use 'Feed Me!' action on her Vegas Card Trick Table

60 , 80 , 60

7

Clean other Sims' dirty items (6)
Tell all your friends to come to your grand finale (5)
Complete the Vegas Ritzy Fountain

Any dirty item at your friends' houses works
Post story to news feed and have 5 friends click
Complete all the VEGAS RITZY FOUNTAIN Skill levels

75 , 150 , 75 , Vegas Tiger Pal
*Days resets at midnight GMT
Notes
On the part of the quest where you have to earn simoleons from athletic skill items, part of these can be earned from the 10 times you have to dance on Bella's stage (150 simoleons if not more). The other simoleons I earned at friend's houses on their yoga mats (12 simoleons earned each action) that way I didn't have to use my own energy so I can spend my energy working on that fountain.
-Sydney Gooder
Ad blocker interference detected!
Wikia is a free-to-use site that makes money from advertising. We have a modified experience for viewers using ad blockers

Wikia is not accessible if you've made further modifications. Remove the custom ad blocker rule(s) and the page will load as expected.