A Mystery Box is a special set of shop items that can only be purchased at random with SimCash. Each box contains a group of unique items, typically related to a seasonal theme or Weekly theme.
How To Get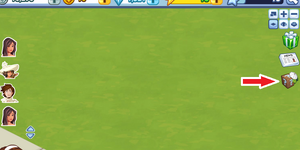 These items are available to purchase by selecting the box covered in question marks to the right side of the game screen, below the settings options. This icon is usually near the bottom of the list.
Once you open the Mystery Box menu, you can choose which type of mystery box item collection you would like to purchase by scrolling through using the arrows at the top of the screen.
When you click purchase, the game will randomly select one of the items in the mystery box to give you. You will then need to click "unwrap" or 'Open gift' to see which item you just purchased.
You will receive a reward item for collecting one of each item in the Mystery Box set.
Mystery Boxes
The first set of Mystery Box items was added during the Cozy Winter Retreat week in December 2011. Several have been added since, the list below details each box and when it was added.
Ad blocker interference detected!
Wikia is a free-to-use site that makes money from advertising. We have a modified experience for viewers using ad blockers

Wikia is not accessible if you've made further modifications. Remove the custom ad blocker rule(s) and the page will load as expected.