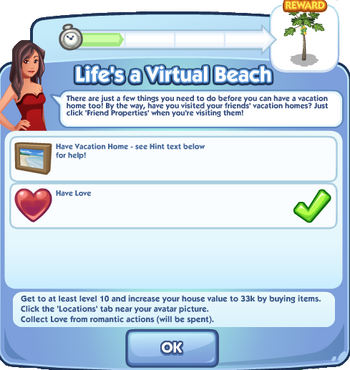 The Life's a Virtual Beach quest was added on February 23, 2012 during Utopia Beach Week to introduce you to a new feature: your Beach House. It is given by the character Bella Goth.
Completing this quest will award you with the Utopia Fruitful Palm.
Quest Requirements
Quest Walkthrough
Image
Part
Description
Notes
Reward
1

Have Vacation Home
Have Love (1x)

20 , 30 , 20
2

Have a Shell from the beach (1x)
Have a Palm Leaf from the beach (1x)
Have Driftwood from the beach (1x)

30 , 40 , 30
3

Have Woven Palm (1x)
Have Planks (1x)

40 , 60 , 40
4

Have constructed Utopia Trashcan
Have constructed Utopia Mailbox
Have Constructed Utopia Basix Shower

50 , 85 , 50 , Utopia Fruitful Palm
Ad blocker interference detected!
Wikia is a free-to-use site that makes money from advertising. We have a modified experience for viewers using ad blockers

Wikia is not accessible if you've made further modifications. Remove the custom ad blocker rule(s) and the page will load as expected.