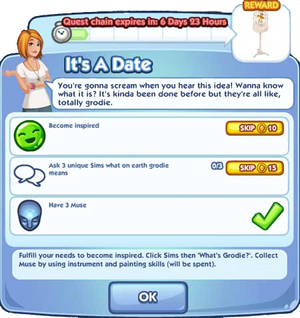 It's A Date is a limited time quest available during from November 23 - 29, 2011 during Pink Paradise week. This quest is given by the character Scarlett.
Completing this quest will give you the Mr. Clockwork as an award.
Quest Requirements
You will need the following items to complete the quest:
Minimum cost: 400

Quest Walkthrough
Image
Part
Description
Notes
Reward
1

Become inspired
Ask 3 unique Sims what on earth grodie means
Have 3 Muse

See Needs and Inspiration for help with inspiration
Click Sim and choose "What's Grodie?"
Muse will be consumed

15 LP , 30 coins , 15 XP , 2 Energy
2

Have 4 Plans
Click computer 5 times to trademark the name Perfect Date Company
Design Company Logo 5 times

Plans will be consumed
Click computer, choose "Trademark Company Name"
Click an easel and choose "Design Company Logo"

15 LP , 40 coins , 15 XP
3

Click stereo and dance with 4 unique Sims
Design the perfect setting for the musical couple's date by HAVING 2 decoration items from the Girly Collection
Play any type of piece on the grand piano 4 times

Visit 4 friends with stereos and choose "Dance Together"
Must be in the shop DECORATION section - cheapest item is InThePink Jo (pink lamp)
Visit Bella, cilck piano and choose any option BUT "Play Sims Know How to Party"

25 LP , 50 coins , 20 XP , 25 SP
4

Have 4 Delicious Morsels
Have 6 Mixing Bowls
Prepare a meal 4 times

Delicious Morsels will be consumed
Mixing Bowls will be consumed
Any "Cater a Meal.." option will work

35 LP , 60 coins , 30 XP , 3 Energy
5

Ask 5 unique Sims if they will go to the prom with you
Wash 5 times
Compose music 5 times

Visit 5 friends and "Invite to Prom" (Positive reaction)
Click a sink and choose "Wash" (consumes energy)
Any "Compose..." action will work

InThePink Beauty unlocked 45 LP , 75 coins , 40 XP
6

Add one new neighbor
Check appearance 5 times on fancy dressing table
Have 10 Bling

If you already have a neighbor, just save, exit and reload
You can use the table at Bella's house, will be bored of action after 2 tries
Bling will be consumed

60 LP , 80 coins , 60 XP
7

Ask 3 friends to toast your way business geniusness
Gush to 5 unique Sims about the good news
Have 10 Dreams

Post to news feed and have 3 friends click
Visit friend, choose "Gush About News" (positive reaction)
Dreams will be consumed

75 LP , 75 SP , 250 coins , 75 XP , Mr. Clockwork
Ad blocker interference detected!
Wikia is a free-to-use site that makes money from advertising. We have a modified experience for viewers using ad blockers

Wikia is not accessible if you've made further modifications. Remove the custom ad blocker rule(s) and the page will load as expected.