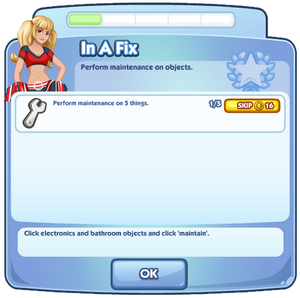 In A Fix is a multi-part quest given by the character Jessica. Finishing the Shining Example quest unlocks this quest.
Quest Requirements
You will need the following items to complete the quest:
Minimum cost: 1250

1250 for cheapest room (4 x 4) -- Buy at Part 3, Build at Part 4
Quest Walkthrough
Image
Achievement
Part
Description
Notes
Reward
Getting Your Fix
1

Perform maintenance on 5 things

Any item you can interact with is good

30, 75
A Hex on You
2

Have 3 Wrenches
Chat with 3 other Sims

Wrenches will be consumed
Visit 3 Sims and choose "Chat" - will randomly show up so keep trying.

30 , 40
Plumb Loco
3

Repair 1 shower, sink, bath or toilet
Buy a new room

Repair either at home or at a friend's
Buy any room, but DON'T BUILD IT yet

30 , 100
Circuit Training
4

Finish building your new room

Now have friends help you finish it by sending requests

30 , 30
Assembly Required
5

Add 1 neighbor
Have 5 Goodwill

If you already have a neighbor, just exit the game then log back in. This tick will be fulfilled
Goodwill will be consumed

50 , 150 , 1 , 1
More
Ad blocker interference detected!
Wikia is a free-to-use site that makes money from advertising. We have a modified experience for viewers using ad blockers

Wikia is not accessible if you've made further modifications. Remove the custom ad blocker rule(s) and the page will load as expected.