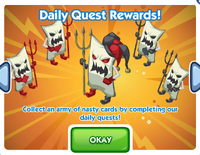 House of Cards: Clubs is a limited time quest available for one day: January 13, 2011. It is given by Bella.
Completing this quest will give you a decorative item, the Nasty Ace of Clubs as an award.
This quest is very easy to complete in the time given; many people completed it without knowing the quest requirements.
Quest Requirements
You will need the following items to complete the quest:
Minimum cost: 0

Quest Walkthrough
Description
Notes
Reward

Have 5 Goodwill
Wear an item of clothing from the latest collection (check for NEW)

Goodwill will be consumed
If you are working on the Black and White quest, you already have fulfilled this. Otherwise, see that quest for the cheapest clothing to buy.

25 LP , 10 XP , Nasty Ace of Clubs
Ad blocker interference detected!
Wikia is a free-to-use site that makes money from advertising. We have a modified experience for viewers using ad blockers

Wikia is not accessible if you've made further modifications. Remove the custom ad blocker rule(s) and the page will load as expected.