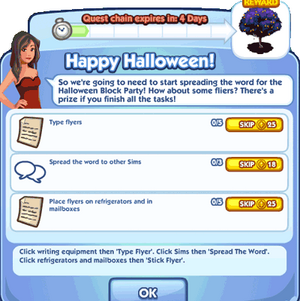 Happy Halloween is a limited time Halloween quest given by the character Bella Goth during Halloween Bash Week in October 2011.
Completing this quest will give you the Halloween Tree, which is normally a Sims Social Cash item. You will only be awarded one of this tree, once.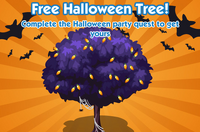 Quest Steps
Part
Description
Notes
Reward
1

Type flyers (x5)
Spread the word to other Sims (x3)
Place flyers on refrigerators and in mailboxes (x5)

Click on computers or typewriters, choose "Type Flyer"
Visit friends, choose "Spread the Word" interaction; positive interaction
Click refrigerators and mailboxes, choose "Stick Flyer"; friends items work

20 , 30 , 10
2

Buy 3 outdoor Halloween decorations
Place 3 outdoor Halloween decorations
Have Toads (x6)

Any item that says "New" and is in the outdoor section will work
Pumpkins are not outdoor items!
Toads will be consumed

10 , 30 , 20
3

Buy 3 indoor Halloween decorations
Place 3 indoor Halloween decorations
Have Glass Eyes (x6)

Any item that says "New" and is in the living / decorative section will work
Glass Eyes will be consumed

15 , 35 , 20
4

Ask 2 of your friends for costume suggestions
Buy the skeleton mask
Have Witches Hats (x6)

Post a new feed, have 2 friends click
Mask is in clothes section, head section, cost 350 social points
Witches Hats will be consumed

15 , 40 , 10
5

Wearing your mask and a Halloween costume, Trick 4 different Sims
Have Tricks and Treats (x6)
Wearing your mask and a Halloween costume, Treat 4 different Sims

Buy a costume in the clothes section (any other Halloween clothes will do); visit sims and choose "Trick" (negative social interaction)
Tricks and Treats will be consumed
Visit sims and choose "Treat" (positive social interaction)

20 , 50 , 20
6

Buy 3 Halloween refreshments
Place 3 Halloween refreshments
Eat treats with friends (x6)

Refreshments are either food or drink
Visit friends and click on refreshments; choose "Eat" -- can eat the same item 6 times, try Bella's house

25 , 50 , 30
7

Wearing your mask and a Halloween costume, do a Halloween dance with 6 other Sims
Have 2 of your friends to RSVP to an invitation to come and see your haunted house!
Phone 6 other Sims to tell them about your party

Click on friend and choose "Do Halloween Dance"
Post a news feed, get 2 friends to click
Use six phones and choose "Announce Block Party" - you will need to use friends' phones or buy a bunch of phones

75 , 75 , Halloween Tree
Ad blocker interference detected!
Wikia is a free-to-use site that makes money from advertising. We have a modified experience for viewers using ad blockers

Wikia is not accessible if you've made further modifications. Remove the custom ad blocker rule(s) and the page will load as expected.