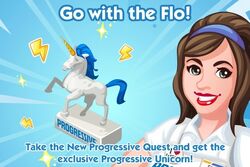 Go With The Flo is a limited time quest available from February 16 - 29, 2012 during Paris Week. It is given by the character Flo.
Completing this quest will award you a decorative item, the Progressive Unicorn.
Quest Requirements
You will need the following items to complete the quest:
Minimum cost: 0

Quest Walkthrough
Image
Part
Description
Notes
Reward
1

Look up Progressive on a computer (2x)
Watch for Flo's Progressive commercials

Use a computer then click 'Look Up Progressive'
Use a TV then click 'Watch Flo On TV'

10 , 20 , 10
2

Compose a jingle for the Progressive commercial on a guitar (3x)
Ask different Sims if they have any glitter you can use for a Progressive commercial. And unicorns, ask them if they have unicorns (3x)
Search for squirrels in trees (2x)

Use a guitar then click 'Compose Jingle'
Visit 3 Sims and use action 'Got Unicorns?' on them
Click two trees and use action 'Search For Squirrels' on them

25 , 40 , 25 , 10
3

Have Goodwill
Prepare tacos for all in microwave (3x)
Ask Sims if they love tacos as much as Flo from Progressive does (3x)

Goodwill will be consumed
Click a microwave then use action 'Prepare Tacos'
Visit 3 friends and use action 'Love Tacos?' on them

40 , 60 , 40 , 20 , Progressive Unicorn
Ad blocker interference detected!
Wikia is a free-to-use site that makes money from advertising. We have a modified experience for viewers using ad blockers

Wikia is not accessible if you've made further modifications. Remove the custom ad blocker rule(s) and the page will load as expected.