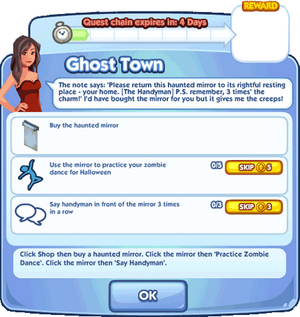 Ghost Town
is a multi-part seasonal
quest
that was available during
Ultimate Horror Movie week
in October 2011. This quest is given partly by the characters
Bella
and the
Handyman
.
Completing this quest unlocks and rewards you with the MSS Hoojamaflip.
Quest Requirements
You will need the following items to complete the quest:
Minimum cost: 4600

Quest Walkthrough
Part
Description
Notes
Reward
1

Buy the haunted mirror
Use the mirror to practice your zombie dance for Halloween (x5)
Say handyman in front of the mirror 3 times in a row

Haunted Mirror is sold in the decorative section of the shop for 600 coins
Place mirror then choose "Practice Zombie Dance"
Click mirror and choose "Say Handyman"

15 , 30 , 15
2

Ask other Sims if your house was built on a burial ground or something (3x)
Ask friends if they can help you with Halloween riddles
Have Dusters (3x)

Click Sims and "Ask About Home"
Post a news feed story and have one friend click
Collect dusters from cleaning actions

15 , 15 , 10
3

Haunted TV is in the electronics section of the shop for 1500 coins
Witches Hats are a random drop from using Haunted Skill items, or can request from friends
Click tv and choose "Contact the Witch"

15 , 30 , 20
4

Ask friends to Watch their TV's for the Watched Witch
Have Toads (5x)
Watch the Watched Witch on your TV (try saying that fast)

Post a new feed story and have two friends click
Collect Toads by photographing Halloween items in your yard, watching Horror movies, or trimming Halloween plants
Click tv and "Watch the Witch"

20 , 30 , 3
5

Have the haunted desk
Share the scare, ask for fear from your friends!
Write something creepy on the haunted desk (x5)

Haunted Desk is for sale under skill items for 2500 coins
Post a new feed story and have three friends click
Click desk and choose "Repeat: All Work and No Play..."

20 , 30 , 15
6

Have Fury... it's the only language Snarls Dickens understands
Contact Snarls Dickens through the haunted desk (x10)
Finish Snarls Dickens' novel on the haunted desk (x5)

Collect Fury through mean interactions
Click desk and choose "Is There Anybody There?"
Click desk and choose "FInish Snarls' Novel"

25 , 30 , 3
7

Search for the Handyman's Lost Remains (10x)
Search for the Handyman's Shallow Grave (3x)
Get some safety in numbers (Add 3 neighbors)

Collect Skulls by using the Haunted Writing desk or by asking friends
Click on Halloween items in your house or friends' homes
Have 3 neighbors - save and exit if you already have 3 neighbors and this requirement will be checked off

50

, 150

, 50 , MSS Hoojamaflip
Ad blocker interference detected!
Wikia is a free-to-use site that makes money from advertising. We have a modified experience for viewers using ad blockers

Wikia is not accessible if you've made further modifications. Remove the custom ad blocker rule(s) and the page will load as expected.