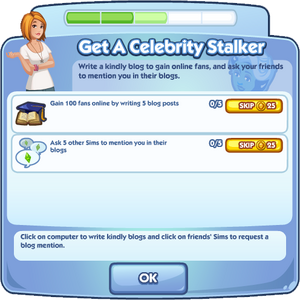 Get A Celebrity Stalker is a multi-part quest given by the character Scarlett.
Completing this quest unlocks the Get A Whole New Look quest. This quest is preceded by the All About You quest.
Quest Requirements
You will need the following items to complete the quest:
5 Friends (4 'friends' neighbors, and 1 mean neighbor)
Computer
Minimum cost: 150

150 to send in the mail for Part 4
Quest Walkthrough
Achievement
Part
Description
Notes
Reward
Internet Sensation
1

Write blogs to get 5 fans online
Gossip with 3 other sims to source new blogging material
Steal pictures from other websites to make your blog look professional

Use computer, "Write Blog"
Visit Sims and choose "Gossip" - this won't automatically come up
Use computer, "Steal Pictures"

30 , 100
Jenny From The Block
2

Be friends with 4 Sims
Be in a mean relationship with 1 Sim
Add 1 new neighbor

Interact with new Sims until you get to friend status - will only work if neighbor remains 'friends' and does not increase relationship to 'close/best/good friends'.
This requires a new 'acquaintance.' Once you add a new neighbor, do mean interactions until you get to "sort of friends" status (after the "awkward friend" status)
If you have already added neighbors, just save and exit and this will be satisfied

30 , 100 , 1
Fan the Flames
3

Gain 100 fans online by writing 5 blog posts
Ask 5 other Sims to mention you in their blogs

Social interaction "Ask for Blog Mention" is unlocked for the duration of the quest.
30 , 75
Fan Inferno
4

Gain 1000 fans online by writing 10 mean blogs
Send a celebrity blogger 150 Simoleons to say nice things about you

Use computer, "Write Mean Blog"
Use mailbox to send money

30 , 40
Play Misty for Me
5

Check mail after 18 hours
Get stalked by 5 friends

Check Mailbox
Post a news feed asking for 5 friends to click

50 , 150 , 40 , Video Camera
Ad blocker interference detected!
Wikia is a free-to-use site that makes money from advertising. We have a modified experience for viewers using ad blockers

Wikia is not accessible if you've made further modifications. Remove the custom ad blocker rule(s) and the page will load as expected.