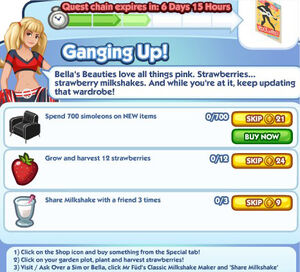 Ganging Up! is a limited time quest available from May 3rd - 9th, 2012. It is given by the characters Jessica and Danny.
Completing this quest will award you with the Littlehaven Tour '56, which is used to complete the Double Speed Skates! quest.
Quest Requirements
Minimum cost: 870

Quest Walkthrough
Image
Part
Description
Notes
Reward
1

Grow and harvest 4 Chilies
Check out Danny's SimBook page 5 times
Get SimPhonic Jukebox

Chilies take 8 hours to grow
Use "Read Danny's SimBook" interaction on computers
Buy the SimPhonic Jukebox from the specials section (it's offered for free)

2

Collect 5 Muse
Pose as a Bella Beauty to 2 friends
Collect 7 Love

20 , 20 , 20
3

Spend 700 simoleons on NEW items
Grow and harvest 12 strawberries
Share Milkshake with a friend 3 times

25 , 25 , 20 , Danny's Quiff, Sandra's Quiff
4

Wear a quiff hairdo! (No need to buy it, just go to your storage!)
Pretend to be an S-Jet to 5 of your friends
Post a feed about being an S-Jet

Click on the Clothes section, then go to its storage
Visit/Ask over a Sim, click and 'I'm An S-Jet!'

30 , 20 , 30
5

Have any Guitar
Invite 4 friends round and pelvis thrust them
Have 7 Muse

Check your inventory for a Guitar or check Shop and Skill items
Visit/Ask over Sims, click on a Guitar and 'Check Out My Moves'
See Muse how to collect; will be consumed

6

Grow and Harvest 2 Watermelons
Have 5 Melody
Tell friends that it's Jessica who likes Danny (get 3 friends click on the wall post)

Click on a Garden Plot and Grow Watermelons (takes 12 hours)
See Melody how to collect; will be consumed
Post a story to your news feed and have friends click

Littlehaven Tour '56
Ad blocker interference detected!
Wikia is a free-to-use site that makes money from advertising. We have a modified experience for viewers using ad blockers

Wikia is not accessible if you've made further modifications. Remove the custom ad blocker rule(s) and the page will load as expected.