Freshen Up is a limited time Christmas quest available for one day, December 26, 2011 during Festive Chic week. It is given by the character Jessica.
Completing this quest will give you a food item, the Winter Cheer Cake as an award.
Quest Requirements
You will need the following items to complete the quest:
Minimum cost: 440

44 to plant Strawberries 10x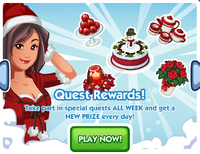 Quest Walkthrough
Image
Part
Description
Notes
Reward
Part 1/1

Grow and harvest 10 of any crops
Research recipes on computer 7 times
Practice Holiday recipes 10 times on stoves

The fastest and cheapest way to complete this is to plant strawberries 10 times
Click computer and choose "Research Recipes"
Click stoves and choose "Practice Holiday Recipies"; this can be done at friends' homes to save energy

5 , 5 , 5 , 5 , Winter Cheer Cake
Ad blocker interference detected!
Wikia is a free-to-use site that makes money from advertising. We have a modified experience for viewers using ad blockers

Wikia is not accessible if you've made further modifications. Remove the custom ad blocker rule(s) and the page will load as expected.