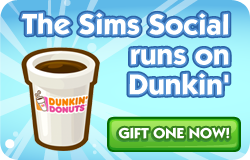 Dunkin' Donuts
is a real-life coffee and doughnut company that appears in the Sim Social.
There are a number of in-game items that are a part of this advertising campaign.
Dunkin' Donuts Backpack Items
Below are Backpack Items that you can receive from Dunkin' Donuts. Only two of these items are available to collect at a given time, but the game often cycles through these items over several weeks.
Special Offers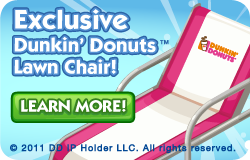 For a limited time only the
Dunkin' Donuts Lawn Chair
was available on the Dunkin' Donuts Fan Site. It is free but you must first like the Dunkin' Donuts site, then click the link on the site in order to receive it.
You can find the site at: Dunkin' Donuts Lawn Chair
Ad blocker interference detected!
Wikia is a free-to-use site that makes money from advertising. We have a modified experience for viewers using ad blockers

Wikia is not accessible if you've made further modifications. Remove the custom ad blocker rule(s) and the page will load as expected.