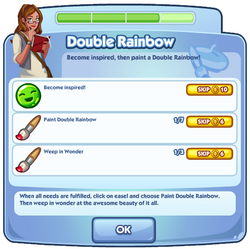 Double Rainbow is a multi-part quest given by the character Fleur.
This quest is preceded by the A Welcome Gift beginner quest. Completing this quest unlocks the Press A for Adventure quest.
Quest Requirements
You will need the following items to complete the quest:
Minimum Cost: 100

for Portrait Easel
Quest Walkthrough
Image
Achievement
Part
Description
Notes
Reward
The Essence of Art
1

Collect red essence from red objects (3x)
Collect green essence from green objects (3x)
Collect blue essence from blue objects (3x)

30 , 3 , 1
All White Now
2

Collect white essence from white objects (7x)

Click on Items around your house, such as microwave, counters, plants, etc.
White Essence will be consumed

30 , 45 , 3
Brushing Up
3

Ask for paintbrushes (3x)
Clean 1 dirty item

Post a story to your news feed asking for item; Paintbrushes will be consumed.
Dirty items either at friend's or at home work

30 , 3
What Does This Mean?
4

Become inspired
Paint Double Rainbow (7x)
Weep in Wonder (3x)

50 , Glorious Rainbow Painting
Ad blocker interference detected!
Wikia is a free-to-use site that makes money from advertising. We have a modified experience for viewers using ad blockers

Wikia is not accessible if you've made further modifications. Remove the custom ad blocker rule(s) and the page will load as expected.