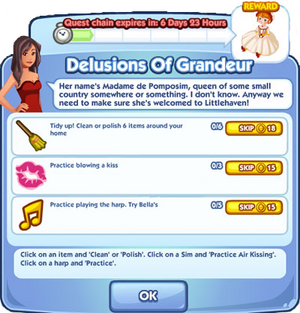 Delusions of Grandeur is a limited time quest available from January 26 - 31, 2012 during Marie Antoinette Week. It is given by the characters Bella Goth and Madame Pomposim.
This quest was difficult to finish, because of several things: 1) it is hard to get 6 different dirty things in your house and find 3 dirty things in friend's homes because they are all cleaning for the quest, 2) The "Bow" / "Curtsey" social action does not come up very often when talking to neighbors, and 3) You need a lot of neighbors, as well as several active neighbors to help you out.
Completing this quest will award you the doll Petite Belle Jeanne, which is a requirement for the A Very Shy Belle! limited time quest.
Quest Requirements
You will need the following items to complete the quest:
Bella + 8 Friends (3 actively clicking feeds)
A Computer
10 Bling
12 Relaxation
Lots of dirty items, both at your house and at friend's houses
Quest Walkthrough
Image
Part
Description
Notes
Reward
1

Tidy up! Clean or polish 6 items around your home (6x)
Practice blowing a kiss (3x)
Practice playing the harp. Try Bella's (5x)

The "Polish" interaction does not appear; you will have to clean 6 DIFFERENT items in your own home. Keep 3 items dirty or broken for the last step of this quest.
Click Sim and choose 'Practice Air Kissing'; positive action
Click harp and choose 'Practice'

15 , 30 , 10
2

Tell Sims to expect a royal visit soon (5x)
Have relaxation (12x)
Clean or polish friend's items (3x)

Click Sim and choose 'Expect royal visit;' positive action
Relaxation will be consumed
Any dirty item works at a friend's house

15 , 50 , 10 , 20
3

Have Bling (10x)
Have new items from this week's NEW theme
I need a maid! (3x)

15 , 100 , 15 , 30
4

Have a wig from this week's NEW theme
Wearing wig, bow or curtsey to sims (6x)
Learn to speak proper (take elocution lessons on the computer) (10x)

Only one wig choice that doesn't cost SimCash, see above under minimum costs.
Click Sim and choose "Bow" (Male) or "Curtsey" (Female); positive action. It will not always appear, and can take many tries to get with some Sims.
Use a computer, choose "Take elocution class."

20 , 120 , 20 , 30
5

Tell Sims that you only eat cake now (8x)
Remove bread from Sim's fridges (8x)
Tell friends that you don't mix with commoners (3x)

Click Sim, choose "I only eat cake now"; positive action but brings up Mean actions afterward.
Click fridge, "Remove Bread" - no social penalty for this
Post story to news feed and have 3 friends click.

25 , 150 , 20 , 2
6

Have 3 dirty or broken items in your house
Warn Sims against being taken in by Madame de Pomposim (9x)
Paint a moustache on Madame Pomposim's painting (try Bella's house)

Any combination of the two types works
Click Sim and choose 'Warn'; positive social action
Click painting in Bella's bedroom and choose "Paint Moustache"

200 , 40 , 3 , Petite Belle Jeanne
Ad blocker interference detected!
Wikia is a free-to-use site that makes money from advertising. We have a modified experience for viewers using ad blockers

Wikia is not accessible if you've made further modifications. Remove the custom ad blocker rule(s) and the page will load as expected.