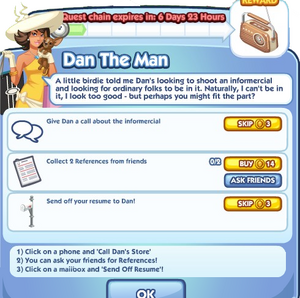 Dan The Man is a limited time quest available from April 12 - 18, 2012. It is given by the characters Macy and Dan Drapes.
Completing this quest will award you with the Domestica TransMaster Radio, which is used to complete the limited time A Domestica Deal! quest.
Quest Requirements
3x200 for the Domestica Timey Up (Items from collection)
Quest Walkthrough
Image
Part
Description
Notes
Reward

1

Give Dan a call about the informercial
Collect 2 References from friends
Send your resume to Dan

Click phone and "Call Dan's Store"
Ask friends for References
Click mailbox and "Send off Resume"

15 , 20 , 15

2

Check your mailbox for the contract in 12 hrs
Ask 3 Sims what they know about the new retro store in Littlehaven
Read Dan's store website 1 time and memorize the information there

Click on your mailbox to collect your contract
Visit or ask over Sims, click them and ask if they've 'Heard about Dan's store'
Click a computer then 'Memorize Dan's Website'

15 , 20 , 25

3

Be Inspired
Complete any 24-hours job
Collect 5 Dreams

20 , 25 , 30

4

Buy 3 items from this week's new range
Search for hidden cameras 5 times
Dust and tidy the place up a bit! 5 times

Click on the Shop icon then the Special tab for the newest items!
Try clicking on items in your house and 'Search for Hidden Camera'!
Click on items and see if you can 'Dust and Tidy' them up!

25 , 25 , 25

5

'Chat' on a Sofa 7 times
'Discuss TV' near a TV 5 times
'Show off stove' 7 times

Ask over a Sim and then click a double seater sofa and 'Chat for Informercial'
Ask over a Sim and then click on a TV and 'Discuss TV'
Click on any stove and 'Show Off Stove'

25 , 30 , 25

6

Buy the Domestica Ringo-Fire Stove
Do cooking skill actions on the Domestica Ringo-Fire Stove 5 times
Pick a tag line and share it with the world online!

You can find the Domestica Ringo-Fire Stove in the shop!
Click on the oven to do cooking skill actions!
Click on a computer then select a tag line to share!

30 , 30 , 25

7

Post an ad for the Potation Plant
Earn 670 Simoleons from writing skill items
Tell 10 Sims to listen to your radio infomercial

Post an ad and ask 8 of your friends to click it!
Try earning simoleons by doing skill or career tasks! What else could you try?
Visit Sims and 'Tell Them About Ad!'

40 , 50 , 40 , Domestica TransMaster Radio
Trivia
This quest was referred to in the A Domestica Deal! quest as "Dan's The Man". However in the actual quest, the "'s" is not present.
Ad blocker interference detected!
Wikia is a free-to-use site that makes money from advertising. We have a modified experience for viewers using ad blockers

Wikia is not accessible if you've made further modifications. Remove the custom ad blocker rule(s) and the page will load as expected.