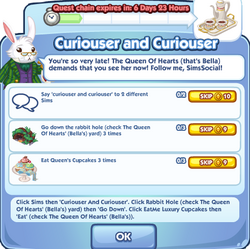 Curiouser and Curiouser is a limited time quest available from January 5 - 9, 2012 during the first week of the Alice's Dreamland theme. It is given by the character the White Rabbit and involves Bella Goth dressed as the Queen of Hearts.
Completing this quest will give you a decorative item, the TimeForTea Tray as a reward. This quest is fairly easy to complete, as long as you have a yard full of weeds. Players who keep their yard completely clear may have difficulty waiting for weeds to grow quickly enough.
Quest Requirements
You will need the following items to complete the quest:
900 for Alice Bow, cheapest new female clothing item
Quest Walkthrough
Image
Part
Description
Notes
Reward
1

Say 'Curiouser and Curiouser' to 2 different Sims
Go down the rabbit hole (check the Queen of Hearts' (Bella's) yard) 3 times
Eat Queen's Cupcakes 3 times

Click Sim and choose "Curiouser and Curiouser"; positive action
Click the Wonderland Rabbit Hole (right side of house) and choose "Go Down"
Cupcakes are at Bella's house. Click cupcakes and choose "EatMe"

15 LP , 50 coins , 20 XP , 2
2

Collect 3 Red Essence from red furniture and items in your and friend's houses
Do 4 skill interactions with easels
Paint 4 different white roses red

Click red or Alice furniture in houses and choose "Collect Red Essence"; Red Essence will be consumed
Click any easel and use energy. Do not need to gain any levels.
Go to Bella's house and click white rose bushes. Choose "Paint"

20 LP , 80 coins , 20 XP , 15 SP
3

Have 4 Muse
Clear 6 grass to try to find the invisible Cheshire Cat
Ask the Cheshire Cat what's going on

30 LP , 200 coins , 30 XP , 15 SP
4

Have 5 Dreams
Have 5 Goodwill
Have 10 pieces of Evidence by collecting evidence from new Alice in Wonderland furniture

40 LP , 250 coins , 35 XP , 3 Energy
5

Have a piece of new Alice in Wonderland Clothing (check for NEW stamp)
Have 5 Bling
Grow larger than life by eating EatMe Cake to put the Queen of Hearts (Bella) in her place

Cheapest clothes for female is the Alice Bow
Bling will be consumed
Cake is a Bella's house; click and choose "EatMe"

TimeForTea Tray
Ad blocker interference detected!
Wikia is a free-to-use site that makes money from advertising. We have a modified experience for viewers using ad blockers

Wikia is not accessible if you've made further modifications. Remove the custom ad blocker rule(s) and the page will load as expected.