Can't Hug Every Cat!
Comments

0
3,649pages on
this wiki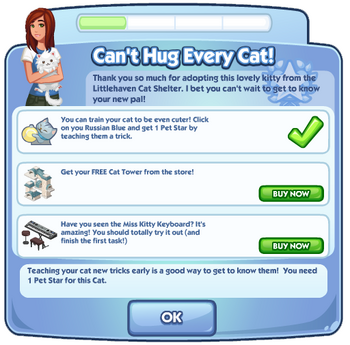 Can't Hug Every Cat! is a multi-part quest that was added on November 29, 2012 during Pets Got Talent Week. There is no time limit for this quest. It is given by the character Kat.
Completing this quest is a requirement of the Kitties Are Forever! limited time quest.
Quest Walkthrough
Image
Part
Description
Notes
Reward
1

You can train your cat to be even cuter! Click on you Russian Blue and get 1 Pet Star by teaching them a trick
Get your FREE Cat Tower from the store!
Have you seen the Miss Kitty Keyboard? It's amazing! You should totally try it out (and finish the first task!)

25 , 10 , 3
2

Your Cat loves spending time with you. train you Russian Blue and earn 2 Pet Stars
Oh, and of course, you gotta remember to Clean The Litter Tray!
You kitty will want to play but you know it would LOVE the Cat Tower. Let's finish building it!

25 , 10 , 25
3

Oh, hey, when did you last feed your Cat? Remember to 'Fill The Bowl'!
Aww your cat looks so cute! I bet it'll be a HIT with your pals! Click on the Cat Tower and 'Take Photos' of your cat! (x5)
Your Cat loves spending time with you. Train your Russian Blue and earn 3 Pet Stars!

25 , 50 , 10
4

Aww those pictures of your Cat look SO CUTE! Click on a computer and 'Upload Cat Pics'! (x3)
Post a feed to tell your friends how great your Cat is on the keyboard! (x5)
Of course your Cat is the best! Tarin your Russian Blue to Master all of its Tricks

Use any computer and 'Upload Cat Pics' 3 times
Post a story to your news feed and have 5 friends click
Master all the levels of the Russian Blue cat

75 , 150 , 5