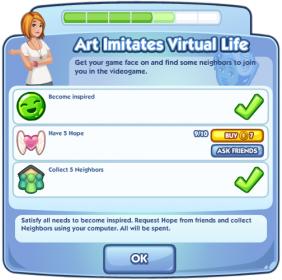 Art Imitates Virtual Life is a multi-part quest given by the character Scarlett.
This quest is preceded by: Take My Advice.
Quest Requirements
You will need the following to complete the entire quest:
Minimum Cost: 88

44 to plant one plot of Strawberries x 2 days
Quest Walkthrough
Part
Description
Notes
Reward
1

Order the videogame
Ask friends for 3 reviews of the videogame
Harvest a crop for 2 consecutive days

Order the video game using your computer
Ask for reviews is a wall post, need 3 clicks
Any crop will do

30 , 30 , 50
2

Pick up the videogame
Have 7 Nutty Snack Bars
Have 7 Leftovers

Use mailbox to "Pick up Videogame"
Nutty Snack Bars and Leftovers are given by doing cooking actions and fulfilling hunger needs

15 , 30 , 30
3

Ask 4 sims what the word is
Have 10 Entertainment
Install the videogame

Visit 4 friends and "Ask What Is the Proper Word"
Entertainment comes from satisfying Fun needs
Use computer to Install Videogame
Bird is the word ;)

25 , 50 , 2
4

Unpack 5 boxes in videogame (5x)
Visit Bella in videogame
Ask 6 sims to 'add me plz'

Use computer to unpack boxes and visit Bella
Visit 6 Sims and ask "Add Me Plz" - this can be either a negative or positive social interaction and will drop Fury

30 , 50 , 3
5

Become Inspired
Have 5 Hope
Collect 5 Neighbors

See Needs and Inspiration if you don't know how to become inspired
You can post a request to your wall for the Hope
Click computer then "Collect Neighbors"

25 , 30 , 50 , 1
6

Have 8 Relaxation
Complete 8 quests in videogame
Look at 6 sims in a new light

Get relaxation by satisfying fun needs
Use computer to Complete Quest
Visit 6 friends and choose "Look at in New Light"

25 , 30 , 25
7

Ask 8 Sims about The Sims Social
Search for information about The Sims Social 5 times
Ask 5 friends if they've heard of the Sims Social

Visit 8 Friends, ask about the Sims Social
Use computer to Search for the Sims Social
Ask friends is a wall post and only requires 3 friends not 5

50 , 100 , 50 , 3
Ad blocker interference detected!
Wikia is a free-to-use site that makes money from advertising. We have a modified experience for viewers using ad blockers

Wikia is not accessible if you've made further modifications. Remove the custom ad blocker rule(s) and the page will load as expected.