A Very Shy Belle! is a limited time quest available from January 26 - February 4, 2012 during Marie Antoinette Week. It is given by the character Madame Pomposim.
This quest is very different from other quests. It is not divided into sequential steps like the others. Instead, it has three distinct parts which can be completed in any order you like.
Completing this quest will award you with the Versailles Maid Fountain.
Quest Requirements
You will need the following items to complete the quest:
Minimum quest cost: 7500

+ 2050

1050 for Petite Belle Marie
7500 for Petite Belle Martine
1000 for Petite Belle Jeanne (to buy the Gateau Wig)
Quest Walkthrough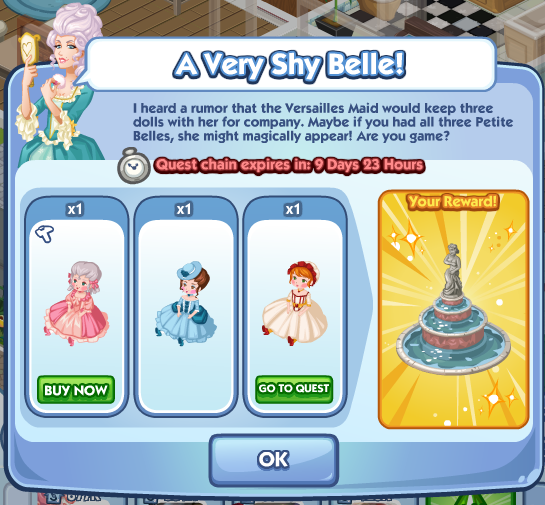 To get these three dolls:
Ad blocker interference detected!
Wikia is a free-to-use site that makes money from advertising. We have a modified experience for viewers using ad blockers

Wikia is not accessible if you've made further modifications. Remove the custom ad blocker rule(s) and the page will load as expected.